Bed Bug Exterminator port hope
Professional and Guaranteed
Bed Bug Exterminations By
The Exterminators Inc.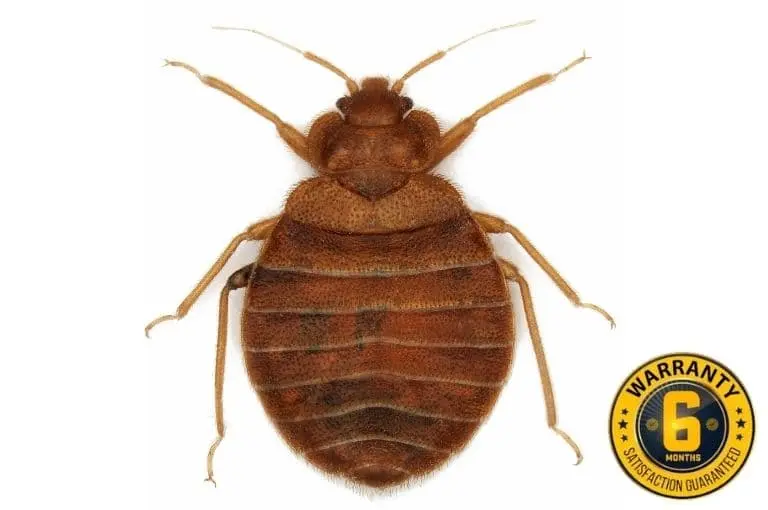 WE TAKE PRIDE IN OUR WORK AND SEE EVERY JOB THROUGH. IF MICE RETURN WITHIN THE CONTRACTUAL PERIOD SO WILL WE.
If contractual pests return following service and within the guarantee and warranty period we will return at no additional cost. We work hard on keeping our customers free from Bed Bugs. We guarantee every service and provide extensive warranties to make sure mouse are gone and our customers are happy. Call The Exterminators Inc. for bed bug control services in Port Hope.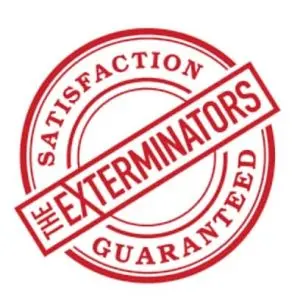 Bed Bug Control port hope

Effective, affordable, and high-quality pest control extermination done by insured and licensed experts. The exterminators are properly equipped to always deal with any bed bug infestation no matter the scope or severity. Our technicians always have access to commercial-grade and low-mammalian toxicity pesticides. These pesticides are deployed in various forms to guarantee a complete elimination with the highest yield possible. Technicians conduct an interior inspection to find hotspots and areas of high activities for countermeasures.
In addition, a full-coverage baseboard spray is also used. The spray has long-term residual effects that will continue for weeks! Once the bed bugs walk on it, they bed bugs will perish on contact. Bed bugs are parasitic insects that hunt for human blood for nourishment. They will bite overnight when the host is fast asleep. Bed bug infestations start from the outside when they are carried in through boxes, carpets, clothes, and luggage. Only a pro can resolve it. Our bed bug exterminations are covered with a 6-month service warranty. If bed bugs return, so will we. Call 289-301-8162
CALL US TODAY AND OUR LICENSED AND TRAINED PROFESSIONALS WILL SOON BE AT YOUR DOORSTEP WITH A GUARANTEED SOLUTION.
The better the property is prepped, the more effective our extermination will be. Technicians need access to spaces and need to apply their treatments anywhere with ease. We send a detailed set of instructions with directions before the day of the treatment. Instructions include removing and washing linens and decluttering living and bedrooms. Clothes will also need to be washed and put in bags.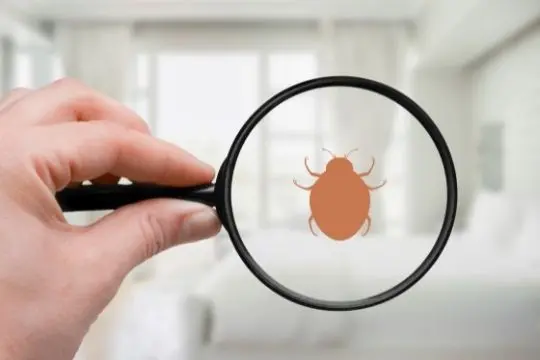 Inspection is the first and most important action technicians take. They need to understand the infestation in-depth and need to understand the gravity of the infestation before proposing appropriate solutions for it. Hotspots and areas of high activity will be identified, assessed, and confirmed. Results will be gathered, conveyed, and will be used for high-yield extermination on the very same day as the inspection.
We target bed bugs with multiple treatments using a variety of pesticides and heat treatments. Technicians know which pesticides are appropriate for what spots. Extermination takes place in two visits. The 2nd extermination is spaced 2-3 weeks after the 1st visit. The 2nd extermination continues with a fully covered baseboard spray. A vacancy of a few hours is expected for all occupants.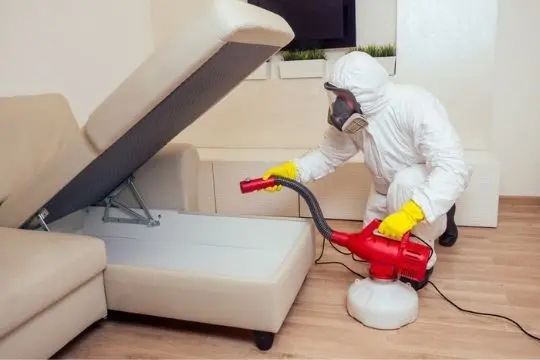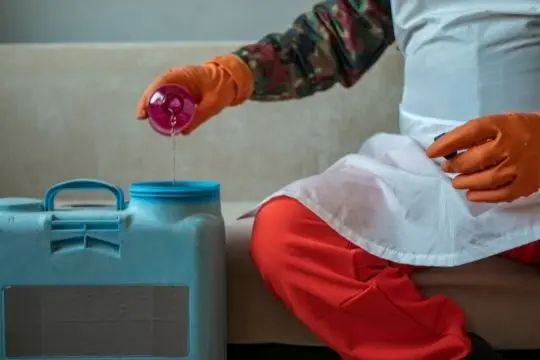 Aerosols are used to treat cracks and crevices. Liquid pesticide concentrates are used for spot treatments. Dusts formulations will be applied to wall voids and electrical outlets. Residual effects eliminate bed bugs on contact and continue to exterminate newly hatched bed bugs long-term.
Bed bugs perish under extreme heat. Technicians disperse hot steam bound to kill bed bugs. Steam treatments are primarily used for unhatched bed bug eggs since they can be resistant to chemical treatments.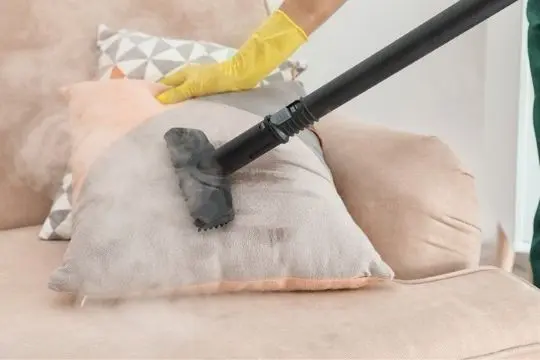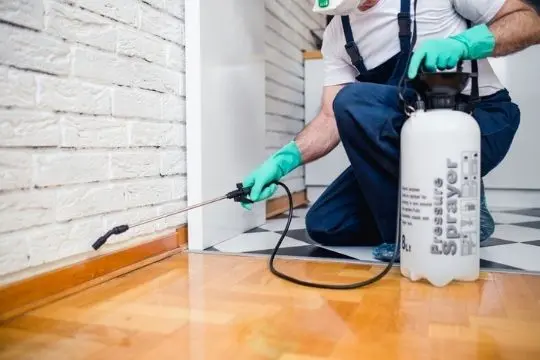 The final step of the bed bug control process is to take preventive action so that bed bugs cannot bounce back and repopulate again. We also offer special bed bug mattress covers to trap them. Special attention must be given to items brought in from outside. This is especially the case for second-hand furniture, carpets, clothes, and luggage used to travel. Bed bugs hitchhike on these items and infest your property.
Waking up to bed bugs is not a great start to the day. Bed bug bites are often seen in clusters, zigzag patterns, or straight lines. They are hard to differentiate from a regular mosquito bite. If you see odd dark streaks on your bedding, these might be crushed bed bugs and bed bug eggs. Professional help is needed. For more information, call xxx-xxx-xxx
Bed bugs hide in secluded areas out of sight. They hide behind baseboards, cracks and crevices, carpets, bed frames, mattresses, couches, and much more! We provide mattress covers to trap them so they can't escape. Bed bugs come out at night, feed on you, and retreat without a trace. Need to find them? Call us.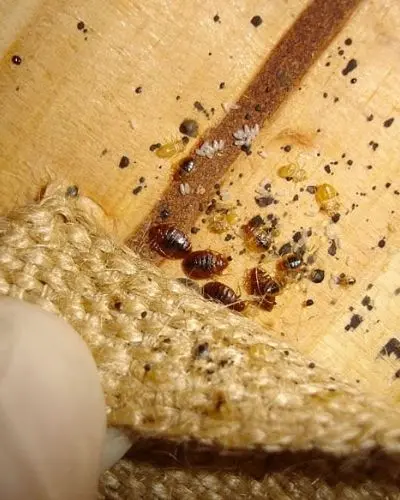 Because our treatments and solutions work. They have helped and continue to help residents in Whitby and beyond. We value simplicity and tangible results, and we have the crew to offer that. Fully trained licensed &insured exterminators take control of your infestation and eliminate it with quality pesticides and heat treatments in no time.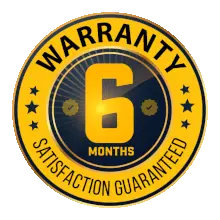 Professional Bed Bug Control in port hope
Potent pesticides and effective steam treatments are no match for new or reoccurring bed bug infestations. We have the equipment, the formulations, and the crew to make it happen. Eager, fully licensed, and insured professionals that will make your property bed-bug free. We are confident in our skills. Our work comes with a 6-month service warranty. If bed bugs ever come back, we will come back as well. Call 289-301-8162